On the last Friday of our holiday, 5th of August, we were berthed on the inside of the pontoon at Cumbrae Sailing School and watched as two tugs met the bulk carrier, Irini, off Tormont End at 1700 hrs and berthed her at Hunterston.
Forgot all about them, until I became aware of the sound of a breaking wave. The first tug was well north of us but her wash broke over some sections of the pontoon.
The second tug must have been playing catch up as her wash was much more severe. By the time it reached the pontoon it was at least a metre high, was breaking, and swept the complete width and length of the pontoon. A 300mm high concrete plinth completely disappeared under the water.
Anyone walking along the pontoon would had their feet swept away, and any youngsters in Oppies off Largs would have had a bad time of it.
It did get rid of a lot of the seagull poo though.
Tugs obviously have so much power that they can push their speed beyond the 'normal' maximum displacement speed, but at the expense of fuel consumption and excess wash. The authorities must be aware of their speed from AIS. Photos of tugs often seem to show them with the hump of the displacement wave well clear of the stern.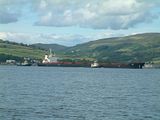 Ash