This has been a pretty poor August in what has been a very unsettled year to date. We have, of course, had some outstanding weather for some periods, and, despite what I'm about to write, much of our sailing has been extremely enjoyable with some very good fast passages.
Because of other commitments, we'd probably missed some of the best sailing weather earlier in the season, and so didn't start our main cruise until 22 July. Over the following month, it was cold much of the time (thankfully the Eberspächer had been brought back to life) and we rarely sailed without wearing warm clothes and/or oilskins.
Anyway, on our July/August cruise, of the 17 days that actually we sailed, 6 of them were at F6 or possibly slightly above occasionally (these were consistent wind speeds, and not counting gusts or squalls, some of which were very violent). Only 6 days out of 17 doesn't look too bad until we add in the 14 days that we spent anchored, or on moorings, while sheltering from strong winds (F6 and greater) and/or gales. We did manage to get ashore in most places, but for much of the time it was just too dangerous to use the dinghy (IMHO, what with me being a wimp and that).
AFAIR, The only BlueMoment boats we saw during our main cruise were
Marisca
in Canna, and
Aja
in the Sound of Mull. We narrowly missed DaveS at Loch Maddy, and JohnBuch at Ullapool.
Taking the season as a whole, we've sailed 39 days to date, of which 18 have been F6 or above, plus of course the aforementioned 14 days cooped up in the cabin.
Fortunately, most of our passages were in sheltered waters so we haven't had particularly bad seas to contend with. However the bumping around and the severe squalls have taken their toll - the mainsail and genoa are both looking very tired, one stanchion has been broken, and the forward hatch has started leaking badly.
Taking a leaf out of Stingo's book, we had no plans and intended to stick to them. Our intention was to avoid motoring wherever possible, and just go where the best winds took us. We had sufficient charts to take us to the Orkneys, even the Scilly Isles, or perhaps go around Ireland again, but would have been equally content pottering around the Western Isles and/or the NW coast, neither of which we had explored very much.
In the event, we didn't didn't motor very much at all although the 32 miles from Loch Ewe to Upper Loch Torridon were done under engine on a windless day, as were some of the 44 miles from Isle Ornsay to Tobermory, although we ended up with several hours at the top end of a force six.
After leaving Dallens Bay we called in at
Port Ramsay;
Tobermory;
Canna;
Poll na Cairidh, Loch Sgioport/Skipport, South Uist;
Loch Maddy, North Uist - excellent meal at the Tigh Dearg - also has shower, sauna, gym, washing machine;
Loch Dunvegan, Skye, where we were used as target practice by some young hooligan golfers (oh yes, we have the address of the house and the photographs.... ) - there are also some really excellent shops, and a campsite with showers and a washing machine;
Badachro, Loch Gairloch;
Loch Shieldaig, Loch Gairloch;
Camus Angus, Isle of Ewe, Loch Ewe
Poolewe, Loch Ewe - first class meal at the Poolewe Hotel bistro;
Ullapool, Loch Broom - umm..., Tesco..;
Camus Angus, Isle of Ewe;
Northwest facing Bay at Red Point - doesn't seem to be listed in our editions of the CCC Sailing Directions or Martin Lawrence, but this made an excellent anchorage for an afternoon stopover on a warm, gentle, sunny day (this was our motoring day). Good clean sand on the bottom, the bay is bounded by rocky shoals, with high sand dunes at the back;
Bay east of Rubha na Feòla in Upper Loch Torridon
Shieldaig, Loch Torridon - bath and good food at the Tigh an Eilean Hotel
Isle Ornsay, Skye
Tobermory - with the Mishnish gone to the dogs, and McGochan's catering for the football crowd, the MacDonald Arms seems to be about the only decent friendly pub left where one can have a quiet drink at clean tables. Regrettably the former Argentinian restaurant above McGochan's now seems to be a pizza place
Dallens Bay.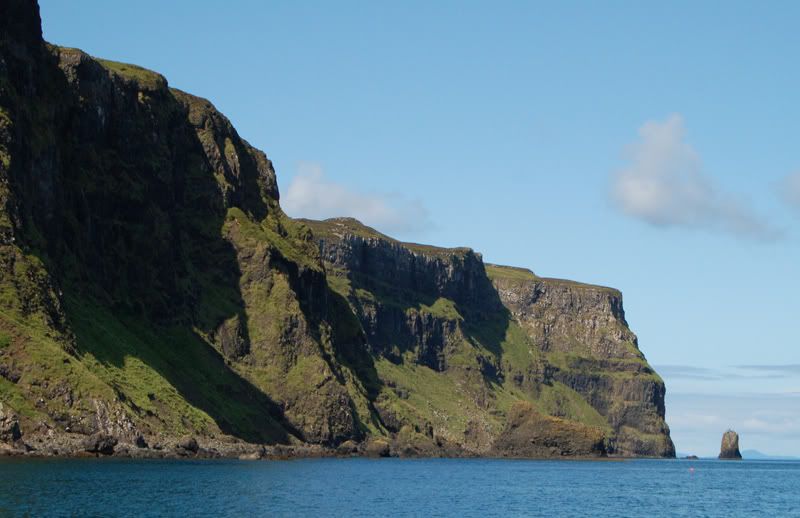 - Canna, cliffs beneath Compass Hill, with Iorcail lying off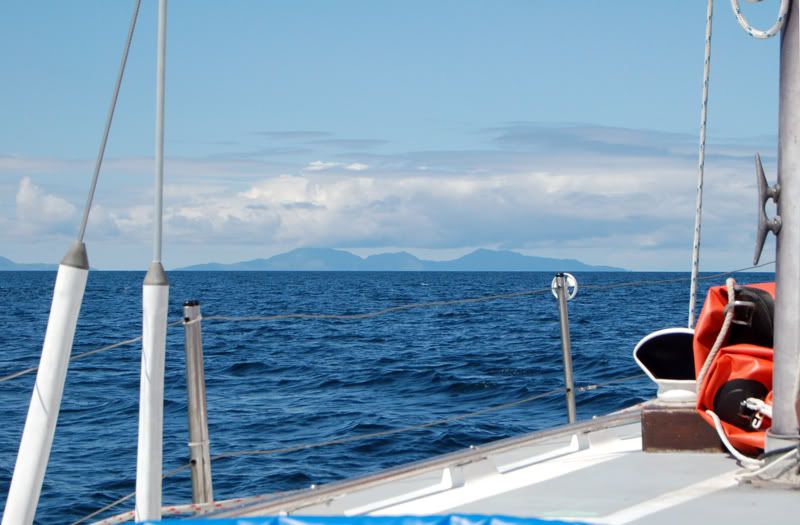 - Hills of South Uist during our passage from Canna



- Anchorage, Poll na Cairidh, Loch Sgioport (Loch Skipport), South Uist, with "Courante" and a German Hallberg-Rassy



- Poll na Cairidh anchorage, Loch Sgioport (Loch Skipport), South Uist, with the remains of a well built building, and, possibly, a fish trap, at the southeast corner of Caolas Mor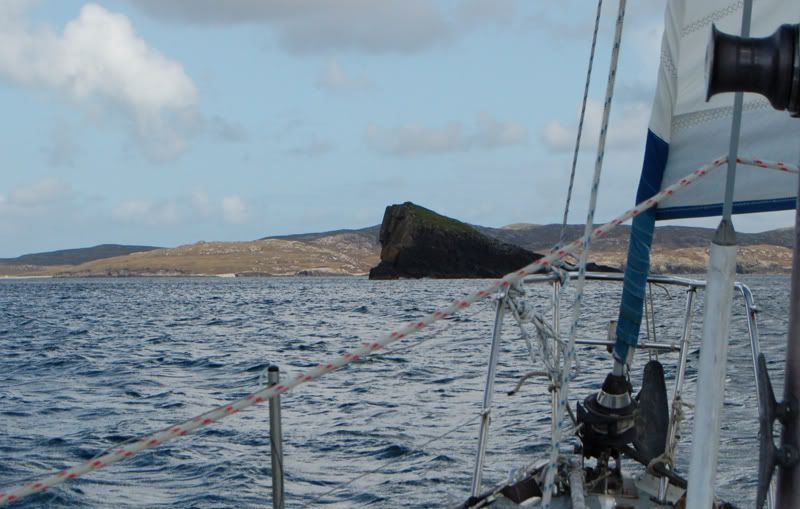 - Approaching Madadh Mòr, North Uist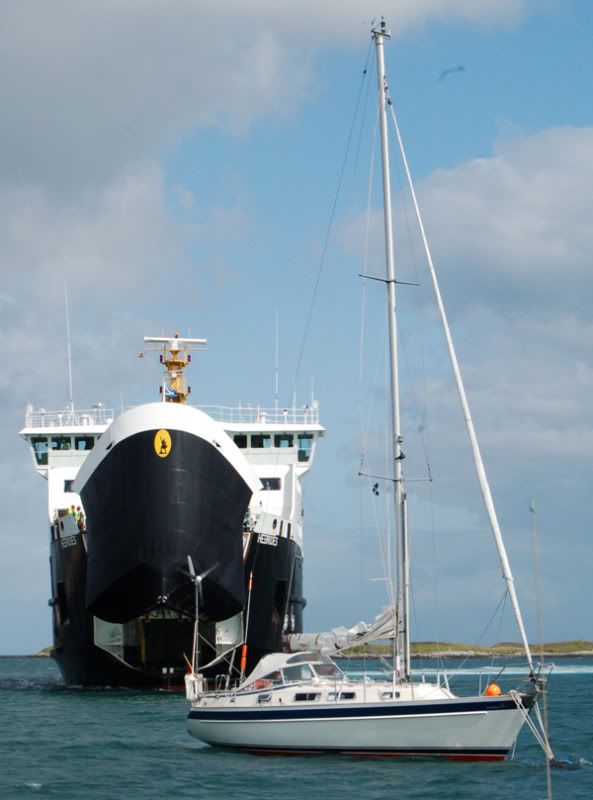 - Mouth open like a greedy whale, the Caledonian MacBrayne car ferry "Hebrides" delicately manoeuvres into Lochmaddy pier in winds gusting up to 40 knots



- Loch Dunvegan, memorable for golf balls and glorious sunsets



- Dunvegan evening



- Dunvegan Harbour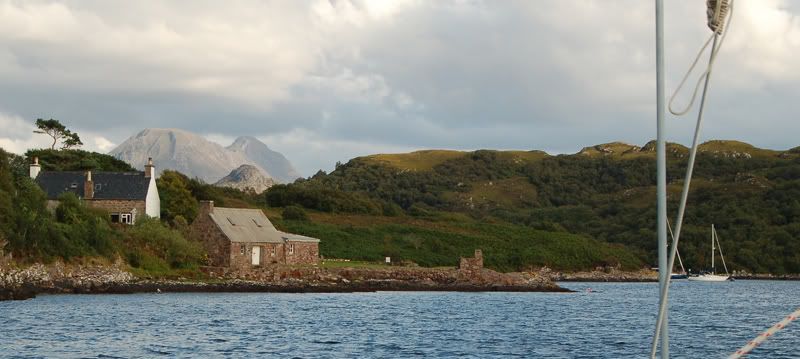 - Eilean Horrisdale, Badachro, Loch Gairloch. We anchored just to the right of the two moored yachts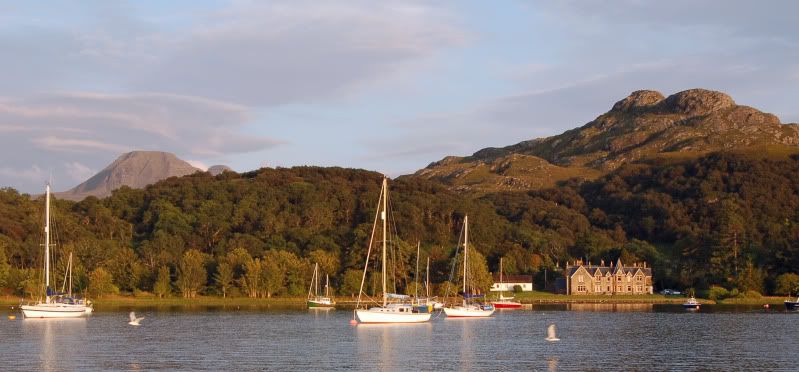 - Loch Shieldaig, Loch Gairloch



- Approaching the anchorage at Acarseid Mhòr, Camus Angus, Isle of Ewe, with the obvious reef extending out from the south side of the bay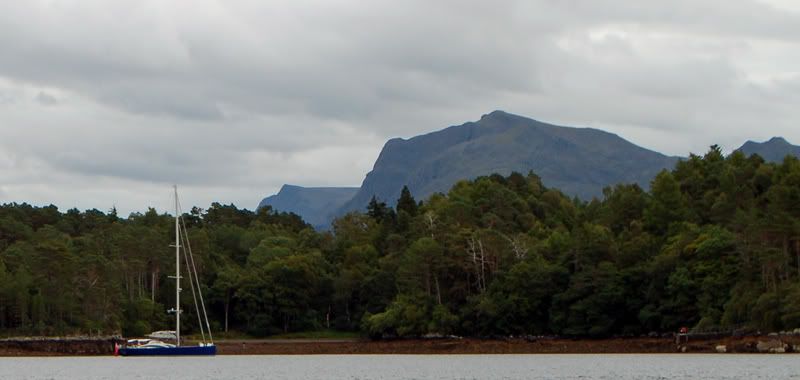 - Camas Glas, Inverewe, Loch Ewe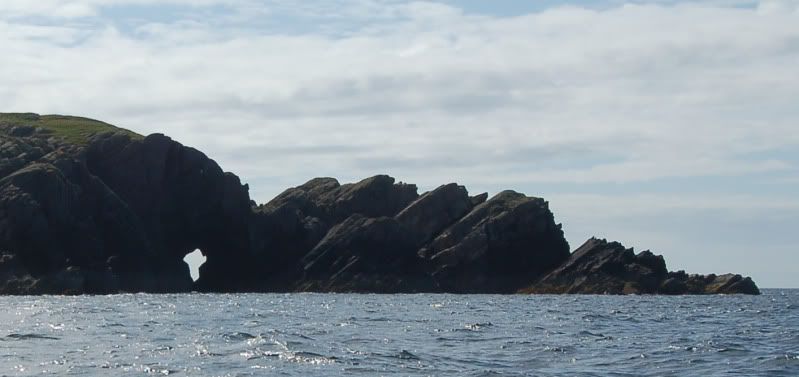 - Eilean a' Chlèireach (Priest Island) - unfortunately we had insufficient time to anchor or land



- Ullapool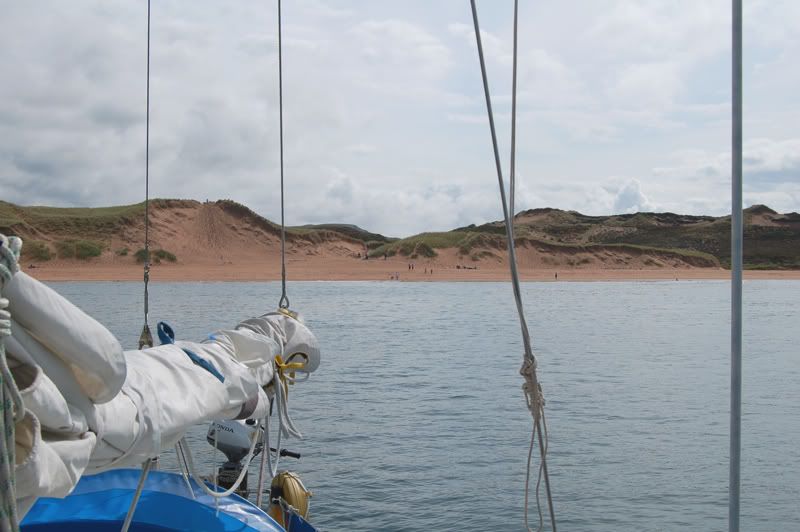 - Red Point, northwest facing bay - clean sandy bottom with good holding



- A gloomy looking Liathach, Upper Loch Torridon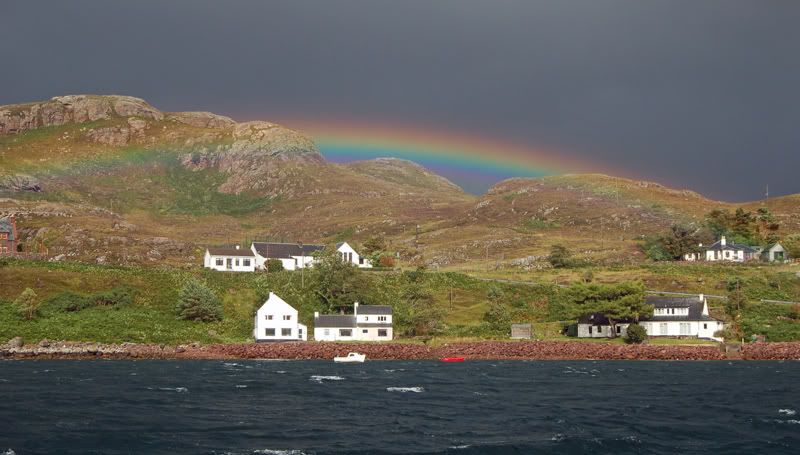 - Shieldaig, Loch Torridon



- Skye Bridge, Kyle of Loch Alsh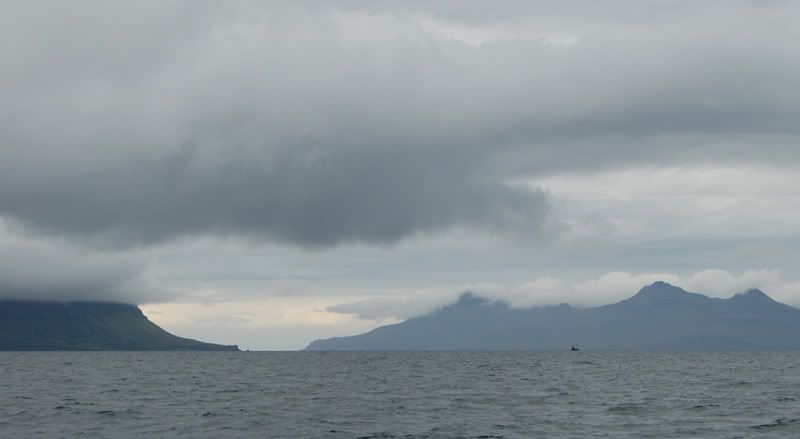 - Eigg and Rum



- Catamaran with Freewing rig in a Force 6, west of Sound of Mull
Some general comments about our main cruise in the north and west;
1 There was much less wildlife than expected beyond the Sound of Mull. In another post, Sahona mentioned the general absence of wildlife this year. I agree; the seabirds seem to have been fewer (and quieter), we've hardly seen any dolphins (usually plentiful), and even on the rocks and skerries near our mooring, where there is usually an abundance of seals, there are very few to be found. Have the fish farms shot the bloody lot, or is there something else going on? On the other hand, we've seen quite a lot of porpoises and sharks, a sea eagle collect its dinner out of the sea, and we've had no problem catching mackerel;

2 Perhaps it was the weather, but we saw hardly any boats sailing in, or around, the Uists, and almost none north of Kyle of Loch Alsh (we were only as far north as Ullapool);

3 T-Mobile dongle is just about useless in most places beyond the Sound of Mull - next year it will be O2 or Vodafone;
Finally, a few comments about weather forecasts and the coastguard service. Given the geography of the area it is inevitable that there will be some difficulties experienced in certain areas where internet access is impossible, where there is no mobile phone coverage, and where there are reception problems with marine VHF and/or Navtex broadcasts. These are all understandable and have to be taken into account by cruising boats.
In terms of Navtex coverage, it was patchy to say the least beyond Ardnamurchan. 490 kHz from Portpatrick rarely kicked in (although Niton could chunter away chust the very thing with area forecasts that were of little use to us), and 518 kHz from Portpatrick was pretty iffy. Best coverage came from the Irish Coastguard at Malin Head on 518 kHz.
From the Channel 16 emergencies that we did hear, the coastguard service handled them all very well and I have nothing but praise for them. However it would be appreciated if their routine weather forecast transmissions were perked up a little bit;

1 Stornoway Coastguard often broadcast out-of-date inshore forecasts, some that were older than twelve hours. On one occasion when we had web access, we know that the Met Office had published not just one but two subsequent forecasts to the one being broadcast.

2 Unlike Clyde, Stornoway CG never seem to read out the "general situation" at the start of the inshore forecast. Have they decided that it's not worth bothering with?

3 I don't have the radio log before me, but, from memory, they usually read out the Rum to C Wrath (etc) forecast first. But one occasion the coastguard officer read out the same forecast as on a previous broadcast, but in a different order ie the Minch first. To be honest, it actually sounded like the same officer. I've always assumed that these broadcasts are pre-recorded, so why go to the bother of making two separate recordings with a different order? If the area had perfect reception, perhaps it wouldn't matter too much, but some broadcasts were only partially readable because of geographic reception issues.

4 While I don't want to make too much of this, I couldn't help but wonder whether there are any standard processes, or quality assurance, for routine CG broadcasts?
As stated, I appreciate the work of the coastguard service and I certainly do not want to rubbish their work. Neither do I wish to appear as though I am moaning, but with only a little bit more care and consistency, I believe service users would be much more appreciative.