Just back on Sunday after three glorious weeks.
We did the CCC Tobermory Race from Rothesay to Ardrishaig - through the dirty ditch and leg two from Croabh (04.50 start) to Tobermory. Unfortunately Claymore as finish boat was no help at all as we had to retire through lack of wind. It was dreich coming up the Sound of Mull.
Next day we headed across to Loch Nam Drambuie with a CCC mini cruise and had a super BBQ on the beach. Claymore had also decided to join the mini cruise so much chat over a beer or two.
The mini cruise was due to head for Canna the next day and not being the normal socialble types surprised everyone by racing Claymore to the best anchoring spot. It helped that it was a following wind and we were soon left for dead when a green spinnaker made its appearance.... helped no doubt by the windage created by the patio......
The theme for the BBQ in Canna was 'Pirates of the Caribean' so we all had to come dressed the part - amazing what teachers can do with cereal boxes and bits of Shredded Wheat (you did have to be there...)
The cocktail provided by 'Saboo' was a rum based nuclear warhead which went down a treat - as did the tug-of-war competition and a beautiful (cleaned-up) recital about elephants from J Swannie esq.
The mini-cruise were having a lay day in Canna the next day so we upped anchor and headed for Stein in Loch Bay. Had to motor all the way again there had been very little wind. Amazing day in which we saw seals, puffins, basking sharks, pilot and minke whales and a wonderful display from a group of dolphins
Arrived in Stein and ashore for drinks and a shower. Back aboard Aja and hear Claymore calling us up on the RT. They pick the mooring next to us so later it was everyone aboard for a drink, and I got out the guitar and managed to drag a couple of songs out of John - you know how reluctant he can be.
It ended up a fairly late evening ...
We were off next day quite early as the forecast was good for the hop to Stornoway. It started off promising - a bit grey but enough wind to keep us moving at 6 knots - but as the sun came out the wind eventually died and we ended up motoring in a near flat calm for the next 25 or so miles. The last 10 miles to Stornoway seemed endless. Once inside the Shiants it looked on the chart not far away.........
We had a terrific couple of days - during the heat wave - on Lewis. Visited Callanish by bus and generally lazed about. Enjoyed the cosmopolitan atmosphere and the way the youngsters could throw drink down their throats. Most impressive!
Oh by the way some video of the dolphins....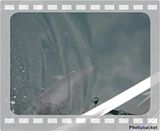 We left Stornoway on the Sunday morning.....it's quite a squeeze on the pontoons. They are not very far apart. Anyway managed to jiggle our way out and headed out of the loch. The wind was only SW F4 but my, what a waves there were at the entrance. Bounced out under engine until we could get to stand up. Raised the main with one reef and full genoa and shot off for the Summer Isles where we had arranged to meet two ther boats (Bonspiel [Westerly Storm] and Juniper Groove [Westerly Typhoon]). As we approached the Summer isles the wind had increased to a F5-6 and Bonspiel called us up and doubted that the anchorage was tenabble. Decision taken that we all head for Ullapool. Well. If I'd know just how bl**dy far up Loch Broom it was I would have gone somewhere a bit nearer.... Any way got to Ullapool had had a marvellous meal - sorry cant remeber the name but its above a fish & chip shop....
Oh heres another backside you may recognise
...though I would say it needs a clean.....now there's a cue for a story...
Once upon a time this wee mannie and his wife were staying aboard a friends boat. They had been ashore for a good meal (maybe even a curry) and a few glasses of the local CAMRA special....
Doh! Daughter needs on the pc.
Will have to continue with my little story some other time......
Regards
Donald & Sheena