sahona wrote:
Booby Trapper wrote:
44 ft Jeanneau......;
Like to hear your report of the 3-point turn in Santa Ponsa "marina" after Sunday comestibles.
We were almost stuck there forever in a 39'.... But who cares, it was magic. - Enjoy.
Didn't make it to Santa Ponsa. But jeez I never knew majorca could be so windy mid summer. Arrive Bon Aire Marina on Sat afternoon blowing at least a 6 out in Pollensa Bay
Skipper and his Daughter not arriving until Sun Evening so we (swmbo, son and skippers partner) have a day to get provisions and a good shoreside meal Sat evening.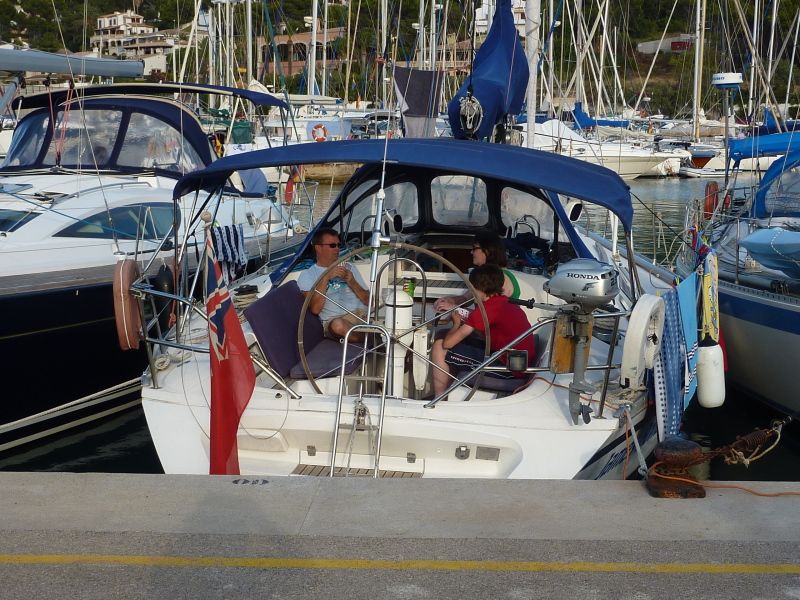 Sunday Blowing a hooley again so as skipper wasn't present I decided not to try and manouvre the boat with no bow thruster out and back in again on the stern to mooring between the almost new 46ft Benneteau with the friendly German on one side and the rather grumpy old Spaniard on his pride and joy on the other. We drove round to Pollensa for lunch and a wander round. Sun Evening Skipper and daughter arrived and we dined on board. Around midnight the wind had gone flat and we Turned in for the night.
Mon morn and with a few fuzzy heads we set off out into the bay and it was already blowing about 20 knots from the east with a reef in the main and few turns in the jib and we were off, tacking into a 3m swell which brought on the first bought of Mal de Mer from the skipper's partner. At this point my wife with eyes firmly fixed on the horizon was beginning to ask where were the calm seas and light winds I promised her
We stopped at small sheltered inlet East of Formentor for lunch and swim and things were beginning to look better. A couple of hours later we headed back out into the bay and set course for Alcudia. The wind by this time was on the beam and blowing 20-25 knots. A cracking sail or at least that's what the skipper and me thought. Early evening and we were tucked up in Alcudia marina 86 euros lighter for the pleasure. An excellent night in Ramones and a few drinks on deck before turning in for the night.

Tues morn we spent diagnosing the problem with the 2 domestic batteries. First we had to buy a small 9v battery for the multi-meter so we sent the kids off to the chandlers and they arrived back with a new battery at a cost of 7euros
An hour or 2 later after some charging and splitting circuits it was decided that both batteries were duff and needed replaced. After some negotiating in my best Spanish the skipper had to part with 220 euros for 2 new batteries. After a quick wiring up and crossing of fingers we were off again heading for Cala Ratjada. Another ref in the main and a full jib we were off on a beam reach across Alcudia bay. A late lunch in the bay on the North side of Cala Ratjada followed by a quick sail around the point and we were tied up on the town Quay. Only 48 Euros this time. A couple of cheap drinks on the dock side cantina were followed up by showers and a slap up meal in Noahs.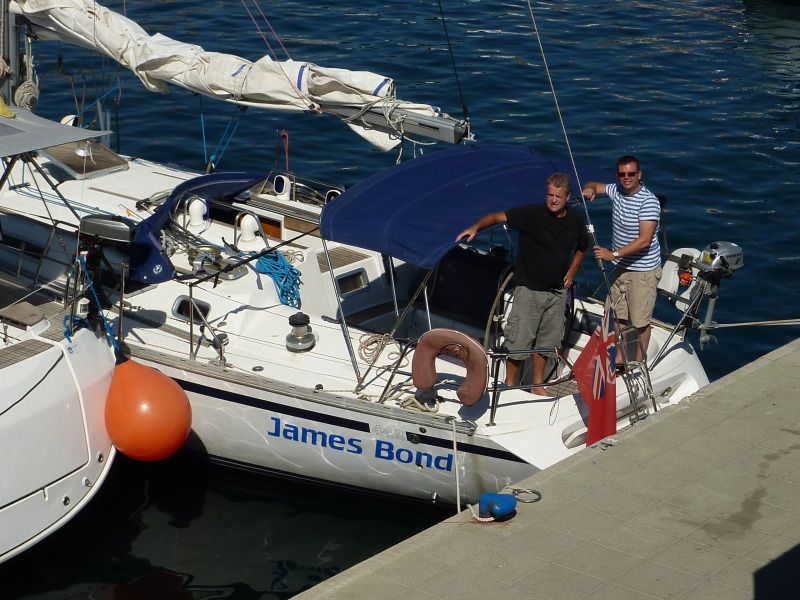 Wed we headed for Porto Cristo and again the wind was blowing from the east but a bit less. Full sails at last!. Obligatory luch stop at a small bay a few miles south of Porto Cristo where we swam and snorkelled in caves and the kids jumped in with dis-approval from mothers off some very big cliffs. Late afternon we sailed back up the coast to Porto Cristo tied up in the marina and parted with 95 euros for the pleasure!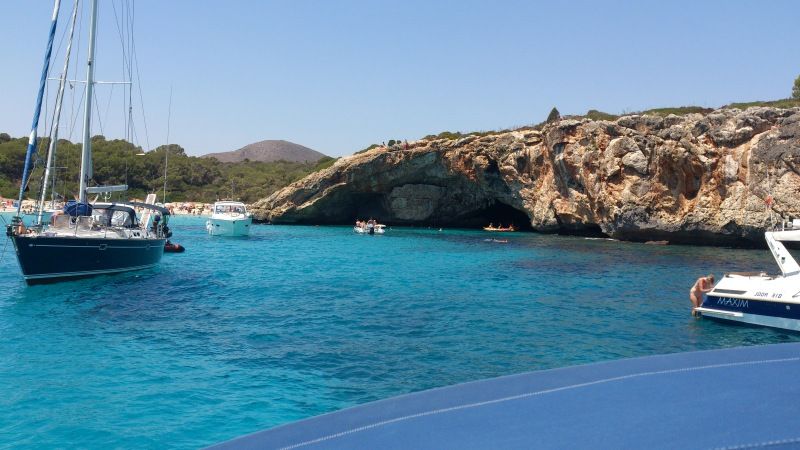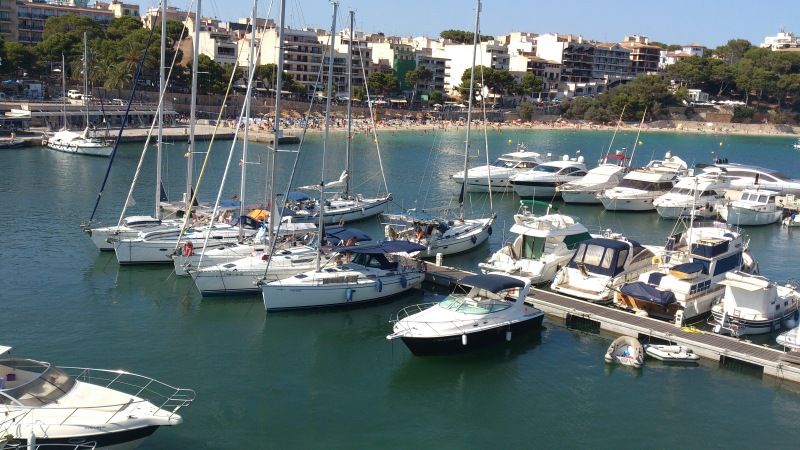 Thurs started great, a leasurely breakfast followed by a swim in the pool (included in the mooring fee) then off we headed back to Pollensa Bay The wind had veered more southerly now but there was a big swell running from the East and causing very sloppy seas as it rebounded off the cliffs north of Porto Cristo. Next casualty of sea sickness was my 15 year old son. Luckily it came on very quickly and after getting it all up and having a dump off the back of the boat which he thouroughly enjoyed he seemed to make a remarkable recovery, He thinks he has discovered a new cure for sea sickness. Funnily enough the 2 women in the crew who were feeling a bit iffy weren't so keen to try it out. As we passed Cala Ratjada the seas flattened off and the wind picked and veered even more. Time for a reef in the main and we poled out the jib and rigged a preventer. The wind seemed to follow our course into Polensa bay and we maintained the sail configuration. Early evening saw us tied up against the town quay this time only 45 euros...what a bargain. We booked a table at Stay on the quay and then showered etc and had a few drinks before dinner.
Fri was a late start as we weren't going far we had secided to try a night at anchor or on a mooring so we headed out into Pollensa bay and sailed to Formentor We tried to get tucked into behind the island for a bit of shelter from the wind and swell but as the mooring boys told us we could not have any of those moorings because of our size they pointed us in the direction of some other rather exposed ones. We decided to head off and come back later in the afternoon. We sailed off and anchored in a bay with a military base at the south east corner of Pollensa bay. The wind was very gusty and swirling in all dirctions so after some food and swimming we headed back to Formentor Bay. By the time we got there the wind was dropping and and after convincing the women that it would drop off to nothing as the evening went on they agreed to pick up a mooring. As soon as we picked our spot (no anchoring here to protect the rare sea grass
) The boys in the rib were back relieving us of 28 euros for a night's mooring. There is a rather upmarket hotel and beachside bar here so we blew up the dinghy and went ashore in two journeys.
We only stayed for one drink as 7 euros for a half pint and 5 euros for a bottle of water seemed a bit of a rip off. 4 of us decided to swim back to the boat leaving only the skipper and my wife to walk back to the jetty and come back in the dinghy. It was about a quater mile swim and the same distance to walk to the dinghy so we thought they should be back about the same time or before us. We arrived back at the boat and after 15 mins or so still no sign of the dinghy. We decided something was wrong. We couldn't see from the boat what was wrong but we thought naybe they had met someone and were just talking but if there was a problem there were plenty other boats with dinghys around that could help out. 5 mins later we saw them heading out towards us. Turned out when they arrived at the jetty the dinghy was in the process of being nicked or "borrowed". When they arrived the skipper could see the dinghy and recognised the sound of his air cooled outboard being driven into the distance. A helpful Italian with a fast rib offered help and they were after them in hot pursuit. On catching up with the culprits they tried to explain there was a mix up and they thought it was the uncle's dinghy and as it turned out sure enough their uncle had one of the biggest gin palaces I've ever seen. 4 decks high with a garage at the back! and they wanted to nick an old zodiac with a 2.3hp honda. We had a good laugh about it and joked that he might come and appologise but it never happened.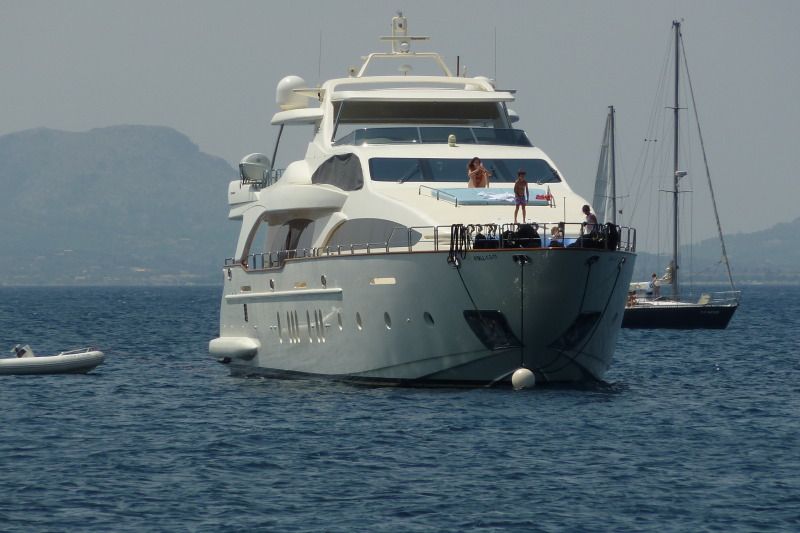 The night at anchor/mooring turned into a bad decision around 11pm the wind started rising the sky clouded over thunder and lightning started and the wind got up and became very gusty luckily most of it was off shore. Not a lot of sleep was had that night.
Sat started a better day with light winds so we just stayed on the mooring went swimming and snorkelling at the island and set off after lunch as we had exceeded our time on the mooring. With the wind rising to around 25 knots we unfurled a bit of jib and headed off back to the marina in Bon Aire. Sat evening was spent packing and putting the boat to bed before going out for a meal.
Sun saw me taking the Skipper and his partner and daughter back to the airport before returning and me SWMBO and son headed off for 3 nights at 4 star all inclusive swanky hotel in Sa Coma, this was part of the agreement to get swmbo to go sailing.
All in all a fantastic time. I've been sailing a few times in Majorca but not for about 5 years. It has gotten very expensive. It was windier than the times I've been before and it was also a lot quieter, we were very surprised at how few boats we saw out sailing and we had no problems getting berths anywhere which had been a problem before.