Fairwinds' Position Report 12.00 UTC 13th July 2007
40deg 00.0'N 018deg 10.2'W
Noon - Noon Run 113nm
Distance from Praia da Vitoria 435nm
Distance to Camarinas 442nm
We had a fantastic downwind sail goosewinged yesterday afternoon (latterly with both sails reefed) but we took the pole and main down about four o'clock when the wind (temporarily as it turned out) gusted up to 25 knots.
After a few slower hours under genoa wishing we had left the main and pole up a bit longer the wind we had been expecting arrived, and by midnight we were surfing at up to nine knots. The skipper was soaked by a rogue wave that came aboard uninvited, and a sizeable percentage of genoa the was subsequently rolled away. A mad downhill sleigh ride in building seas continued through the night, with neither of us getting much sleep as the motion was pretty violent. At dawn the wind was constantly over 25 knots with no sign of a reprieve. Then it began to rain, and the wind dropped and the seas calmed. The rain stopped, and we had thirty knots of wind again, then rain and calmer seas again, then more wind.
Suddenly at 0730 UT - instantly in fact - the wind switched from 25 knots SW to 25 knots NW and the sea went mad, turning into a witches cauldron of chaotically frothing peaks and breaking lumps. Going on deck looked like a dodgy proposition, so we waited half an hour for things to settle down while the blissfully unaware Navik sailed us South.
We seem to be out of range of Lady Ann, so no more second hand Herb for us - but his advice on this front was certainly sound - we would not have liked to have encountered it further North where it was quite a bit stronger. It may have taken us thirty miles or so out of our way, but we think i was worth it.
Since then we have had a light Northerly wind, and as I write this the sun has come out again. We have crossed 40 deg N and are on a direct track for Camarinas, although how and where we eventually close the Spanish coast remains to be decided nearer the time - we will have to avoid the Finisterre TSS for one thing. Looking at the latest GRIB we also need to plan to get in somewhere by Tuesday night as there may be NE winds developing off the Galician coast by then, becoming strong towards the end of the week.
Fairwinds out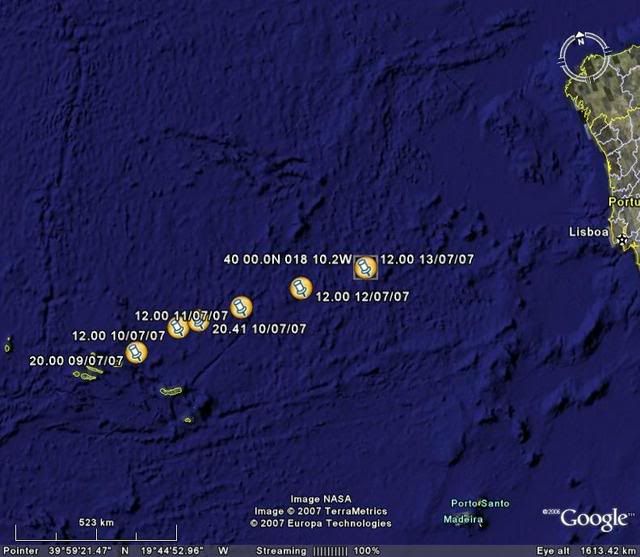 Sounds like a lively 24 hours.