From The Scotsman,
http://announcements.johnstonpress.co.u ... =186413276
.
"On August 4, 2017, James McWhir died suddenly on his boat, Rona, moored in Loch Harport, Carbost, Isle of Skye, Scotland. He had spent many happy years sailing Rona around the coast of Scotland and as far away as the Azores, the Faroe Islands, Greenland, and Norway.
"Jim's greatest joys were sailing and music. Living on Rona, he sailed from port to port mainly along the west coast of Scotland, visiting islands along the way. Self-taught on the fiddle, he was a regular to Rathlin Island, as well as to both the Orkney and Shetland folk festivals, where he played as a member of the Shetland Fiddlers. He met old friends and made new ones wherever he went. Always modest about his abilities, James loved and respected the people he met and the rich culture he experienced through traditional music, with a particular fondness for Shetland tunes. He was thrilled to find himself playing the fiddle alongside singer-songwriter Dougie Maclean in the local pub. He regularly played with 'The Critters' (traditional musicians) in the The Criterion pub in Stornoway and visited the The Old Inn at Carbost on Skye for the music sessions there. He was also generous with his time and volunteered with the traditional boat scene in Stornoway, doing repairs, maintenance and skippering."
Read more at:
http://announcements.johnstonpress.co.u ... =186413276
Jim will be sadly missed. His friends will wish to extend their sincere condolences to his family and also to Mavanier of this forum who was a good friend of Jim's and who sailed "Rona" back to Stornoway.
Here's Jim in Stromness in May, as many of us will remember him;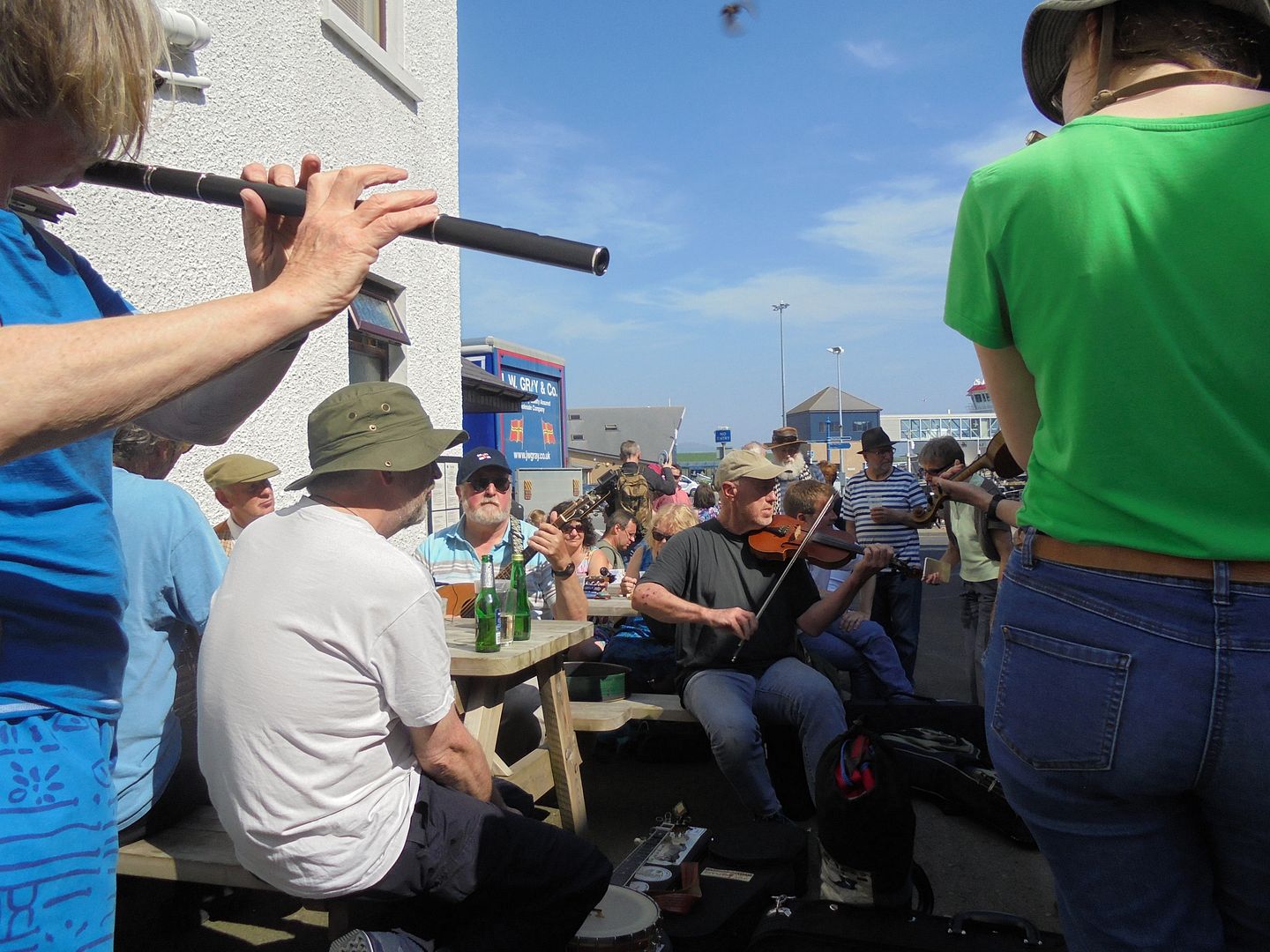 - Outside the Ferry Inn, Stromness during the Orkney Folk Festival. Jim McWhir on fiddle, centre.